10 Years of Amazing Journey
05 July 2021
This June 1st, 2021 marked the ten years of Amadea Resort & Villas with a Tumpengan ceremony, an Indonesian tradition in celebrating special days, highlighted with yellow rice cone and all yummy condiments. It is humble celebration combined with seminar on leadership and staff gathering with foods and drinks served at the casual setting of Sabha Room.
This 10 years amazing journey would not have happened without the kind support from our guests, staff members and business partners. We are grateful for being surrounded by good hearts and look forward to very bright future soon.
There are some other activities in conjunction with the special occasion.
-

Amadea Cares visited Underprivileged Kids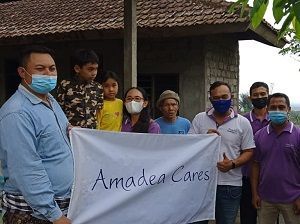 18th June 2021 the Amadea Cares team visited underprivileged family in Tabanan, Bali. This family of four consist of two lovely kids who have lost their parents and now live with their grandpa and grandma. They live in a simple house and make living from farming which give them only a little income.
Since 2019 Amadea Cares enlarges the program with commitment to support families like this family for at least to ensure those kids get proper education. This family is our pilot project and hopefully we will be able to support more families in the future.
Amadea Cares is Amadea's Corporate Social Responsibility program that focuses on giving back to the local community. Since its launching February 2012, Amadea Cares has helped funding of medical surgery of 25 kids with cranio facial disability. This has been possible thru the generous support from our guests as well as from our employees. Together we make this world a better place to live.
-

Blood Donation for Bali Blood Bank
Collaborating with Palang Merah Indonesia Badung chapter (Bali's red cross organization) staff of Amadea and neighboring hotels and villas as well as our sister company PrimeBiz Hotel Kuta on 25th June 2021 conducted a community inspired blood donation drive. This resulted in more than 27 blood bags being collected.
"It has been a pleasure to note that the staff members are very enthusiastic to this program every year. It is not only to emphasize the spirit of unity by helping one another but it also brings pride to team member for being a good community members", says Mr. Eka Dhewanta the resort's Operation Manager who act also as the coordinator of this event.
Blood drive has been part of Amadea's regular annual program to support Bali's blood bank especially during this hard time. Guests are always welcome to come to in the event whether as participant or supporters.
Previous
All Amadea Staff Has Completed Covid 19 Vaccination
Next
Amadea Receives 2021 Travelers Choice Award 2021 from Tripadvisor