Balinese Dance, Dance for the Gods
31 May 2021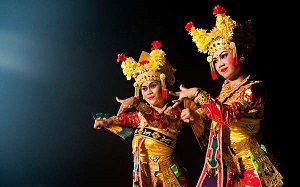 The lifestyles of Balinese people is expressed in their dance. Not only do we learn about the Balinese religion from their dance creations but also we can come to understand the flow of cultural events and activities that belong to everyday life. We can discover Balinese attitudes, how they look at nature, and how they regard their fauna and flora.
Balinese dance goes as far back as Balinese written history with much of the heritage originating from Java. Ironically the Javanese culture has disappeared but has still survived in Bali and has become part of classical Balinese culture.
The very essence of the Balinese culture is dance and drama, which is performed during temple festivals and in ceremonies. The dances performed in hotels is a small fraction of what Balinese dance has to offer.
Several venues in Bali tourist area offer great opportunity for tourist to watch this beautiful culture heritage. Check with the hotel concierge to help you for schedules. Click this link https://bit.ly/1r54Ln9 to watch the famous Legong Dance in Ubud Palace.
Previous
In the News: Bali kicks off drive-thru virus jabs for hospitality workers
Next
Special Food and Beverage Promo in May