Traditional Balinese Textiles
30 July 2021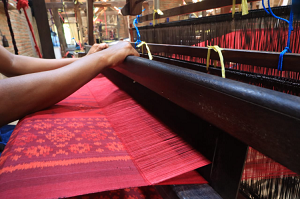 Like most parts of the Indonesian archipelago, Bali has several traditional textiles that are exclusive to the island. "Endek" is the most widely produced cloth that uses a single 'ikat' technique whereby the pattern is made by resist-dying the threads of the warp or weft. Another more elaborate textile is "Songket", which is embellished with gold threads as a symbol of privilege. These cloths are worn for auspicious occasions and passage of rite ceremonies such tooth filings and weddings.
The village of Sidemen located at the foothills of the sacred Mount Agung is famous for its handcrafted textiles. There are several workshops in the area and some women still weave at home using old-fashioned contraptions. Authentic endek and songket textiles are not cheap and local buyers appreciate the amount of work that has gone into creating each piece.
Anyone interested in visiting Sidemen to learn more about this artistic heritage can contact our Guest Service Assistant at the Lobby to make the necessary arrangements. A private tour is a great opportunity to explore rural Bali and perhaps bring home a special treasure or two.
Previous
From the News - Bali Back on Lockdown - Latest Rules for New Social Restrictions (July 2021)
Next
Bali's Cultural Calendar