Healthy Drinks at Asparagus
30 July 2021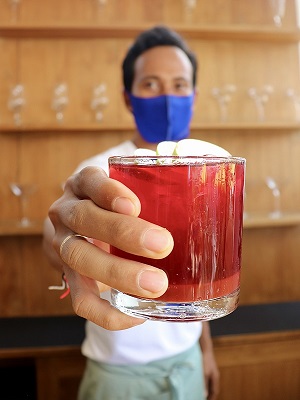 Our Asparagus Restaurant promotes healthy lifestyle and offers various meals and drinks for healthy conscious customers. This month the bar team come up with series of new drink which is made from natural ingredients and sourced locally. This is not only helping you to be healthier but also to bring sustainable impact for the local farmers and environment.
The friendly barman, Gede Surya creatively tailor made best concoction such as Pineapple Sari, Jamu, Red Jamaica, Juice Sehat, Green Day, Dragon Be Nice, Mango Mango and Ice Tea US. All is very distinctive, has unique taste and fresh to enjoy with friends during noon to sunset time or to accompany your meals at breakfast, lunch or dinner.
"I love making some drinks creation made from local fruits, herbs and leaves as part of practicing healthy lifestyle as well as giving unique experience for our guests. This is also in line with our motto that is Tastes Good Feels Good", says Surya. These drinks are available daily and made fresh from the bar at Asparagus.
Previous
Bali's Cultural Calendar
Next
September Special Promo at Asparagus