September Special Promo at Asparagus
31 August 2021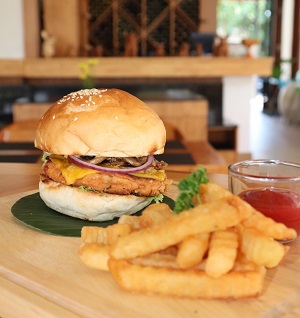 General public and guests who stay at Amadea this September will have the opportunity to indulge at Asparagus with some fabulous promotions.
Come in and enjoy 25% discount on all food items from our regular menu every day.
If you are a "Burger Mania" you will not give our Burger Monday aka Bunday a miss. Enjoy your favorite burger only at Rp 55.000 each plus a Bintang Beer at Rp 15.000 per bottle.
Every Wednesday our team at Asparagus will come with special deal of Rp 50.000 each meal. This special offer includes various dishes sold at discounted price to satisfy your taste. Enjoy broad choice of juicy pork spare ribs, thai beef salad, deluxe burger, seafood spaghetti, fetucinne carbonara, chicken parmigiana, pork belly sandwich and chicken curry. All at Rp 50.000 each.
Friday is Vegan Day. Buy 1 and get 1 Free for all vegan dishes from our regular menu. Price start from Rp 68k per meal which is delicious and make you feel good for what you eat.
Spend your afternoon with our Happy Hours which will happen daily from 4 pm to 7 pm and enjoy special promo on several drinks. Grab your Mojito or Caipiroska or Caipirinha just at Rp 50.000 each. Or order your Bintang Beer at Rp 25.000 or if you choose healthy path just tell our bartender to get you fresh fruit juices at only Rp 20.000 each. House wine is also on sale at Rp 65.000 per glass
We would like to make sure that you will have comfortable and safe dining. Asparagus follows strict health protocols set by the government such as providing hand sanitizer, body temperature checking at the entrance and strict social distancing measures. All of our staff wears face mask, google glass and hand gloves. Each table is sanitized every time after being used.
Previous
Healthy Drinks at Asparagus
Next
Support for Bali Tourism Workers