Support for Bali Tourism Workers
31 August 2021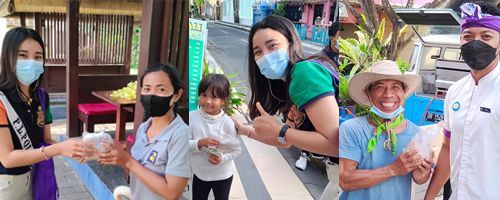 The past one and a half year has hit Bali tourism industry very hard. Hundred thousand of people lost their job with many return to home villages to help their family farming or find other jobs in the town.
At Amadea we always think positively and do our best to give support in anything we can to help the community although it is in a small scale. In August the Amadea and Asparagus Restaurant team up to distribute free meals to tourism workers and other public around Kayu Aya street including hotel workers, shop keepers, massage therapist, road cleaners, security guard, drivers etc.
"We are in this together so we feel that we should do whatever we can do to help our colleagues especially in tourism industry. We start with those who are very close to our location here on Jalan Kayu Aya. We bought rice, chicken meat, spices and vegetable from local shop and our kitchen team cooked them with love. Other team members take part in packaging and distribution. I am very thrilled to see the high spirit amongst our team that they can do something good, even though small", says Wayan Warta, the General Manager of Amadea Resort & Villas Seminyak.
activity which is called Sharing is Caring was conducted twice a week every Monday and Thursday for three weeks in August in conjunction with the Indonesia Independence Day celebration
Previous
September Special Promo at Asparagus
Next
Bali's Cultural Calendar